Typically, a thank you page loads after a conversion has happened on your website, making it a step beyond your conversion funnel.
But, have you ever given a thought that even this very page can get you repeat conversions?
For most marketers, a thank you page is nothing more than a means to express their gratitude to their users for making a purchase on their website or subscribe to their newsletters. But, a thank you page has the prowess to encourage prospects to take many other desired actions on your site than just accepting your acknowledgement. They can give your business countless conversion opportunities and even increase revenues manifold.
If there's one page that can serve as a goldmine for your website – it's not your product pages or the check out page, rather… it's the 'thank you' page.
In this blog, we'll walk you through some smart thank you page examples to extend your conversion funnel beyond the Thank You page and scale up your conversion rate.
Smart Ways to Use your Thank You Page
Ask for Referrals
Getting new business onboard is often an ongoing challenge for most online businesses. But there's one smart channel which, when utilized properly, can turn into a great source of revenue: referrals. As per a survey conducted by Ogilvy, nearly 74% of people identify word-of-mouth as one of the primary key influencers in their purchasing decision. Hence, it's no surprise that most businesses invest a lot in asking customers to refer them to their friends and family.
For example, Hubspot uses its thank you page to get more referrals from its customers.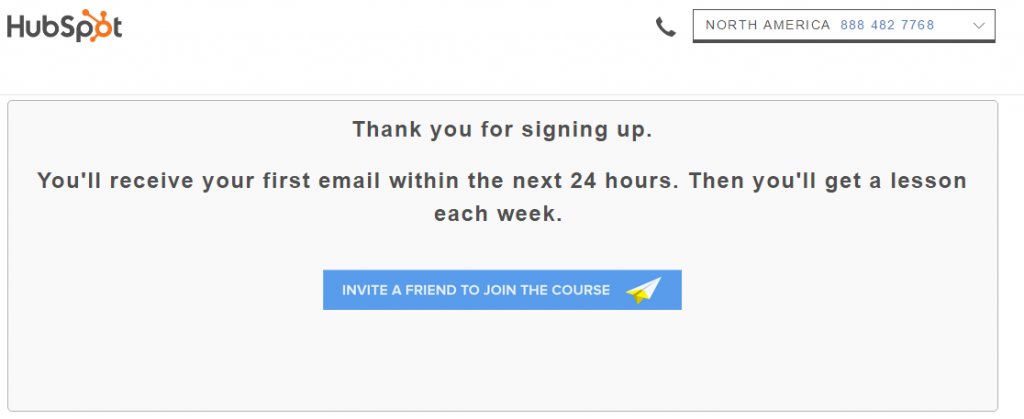 The company believes that when a customer is content with their services and is ready to sign up on their platform, they'll be more than happy to refer them to their peers.  – Read more