Just as retailers now see VoIP phone as the standard when it comes to customer communication, responsive design has long been regarded as instrumental to web design.
Fast forward to today, however, and it's clear that responsive design is no longer enough. In order to convert more of the people browsing your website into customers, online retailers need to keep up with digital transformation, and make sure their sites are 'optimized' for mobile.
Mobile optimization is the process of:
"Adjusting your website content to ensure visitors accessing the site from mobile devices have an experience customized to that device." (Brightedge[1])
Rather than simply compressing or rearranging content on a screen, a mobile-optimized site is designed entirely around the smaller screen user's experience.
Why is mobile optimization important?
Retailers need to find out what's involved in a seamless purchasing experience. This includes not only asking what is offline communication and its importance, but identifying and optimizing all online touchpoints – mobile being key to converting users into buyers.
Consumers are digital nomads and are browsing and buying across a variety of devices. They want a 'frictionless' experience on every device they use – and especially on mobile. Unless retailers adopt a 'mobile first' approach, consumers will click away to another site.
Barriers to conversion on mobile devices
The five top issues with mobile commerce cited by consumers involve basic usability difficulties: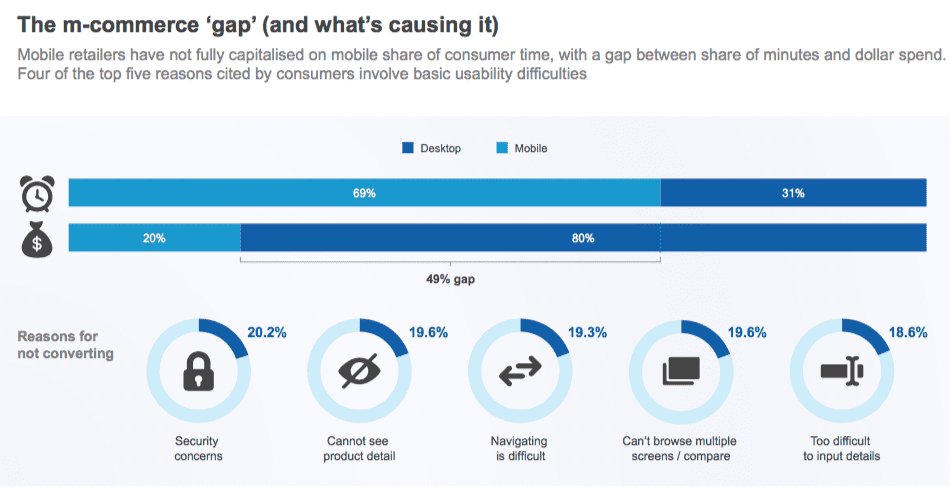 The mobile purchasing experience often falls short
Accessing a website on a mobile device can be incredibly frustrating. Tiny buttons, hard to see links, and unclear forms make for a poor user experience. That's not to mention the endless scrolling options. If users have to wait for slow pages to load, or can't quickly add items to their carts, they will become stressed and impatient. The result: Abandoned carts and unfinished purchases.
This is clearly not what any online retailer wants.
However, it is an all too common scenario. Imagine you're browsing an e-commerce site with the intent of buying a set of wireless headphones. You may try the search button and find it doesn't work. Then, you attempt to navigate your way to your desired item via the top-bar menu.
Finally, you may actually find a list of headphones which tick most of your boxes. At which point, you'll need to click each one to see the specification. You may have to pinch, scroll, and manipulate the screen to access the information you require. And there may be no option to compare items, so you'll have to keep clicking back and forward to view the information again.
If you make it to the checkout process after all this, you may then be asked to create an account before purchasing. If the form's difficult to fill out or you then are tasked with confirming your email address, etc. this could be the last straw. That's even if you get the email quickly because the retailer has taken steps to improve email deliverability.
Faced with a series of frustrating tasks, most potential customers will abandon their search because they've lost patience and simply don't have the time. – Read more