Landing pages aim to encourage the visitors to accomplish a goal on 'landing' there. These goals vary with industry. For an eCommerce landing page, it could be an 'add to cart' or 'buy now', while it could be a 'free trial' or 'demo version' for B2B, SaaS companies.
A landing page's overall objective is to generate qualified leads through the marketing funnel, as shown in the above image. The qualified leads in their nature are more likely to convert fully into sales if nurtured well through the sales funnel.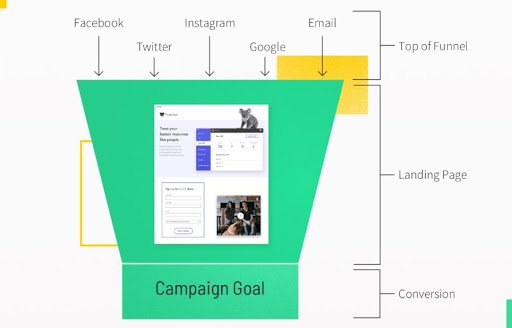 Understanding landing page conversion rates
Not every visitor who hits one of your landing pages will take the action you desire. Some people may bounce immediately, while others might read your content and then choose to leave or go to another page. Landing page conversion rates tell you the proportion of visitors who do convert into qualified leads by accomplishing your landing page goal.
For instance, a landing page is built for traffic from an email marketing campaign. This campaign intends to convert visitors as effectively as possible. By tracking the landing page conversion rate, you can assess whether it's true. You can have a quantitative measurement of how well your page aligns with the interests of visitors. Having such an analysis makes it easier to improve your landing page, allowing you to see the impact of conversion rate.
WordStream found its average landing page conversion rate as 2.35%[1]. The top 25% of landing pages in the same study converted at 5.31%. Some pages converted visitors at an even higher rate.
There's usually an opportunity to improve your landing page and its conversion rate. You must realize that landing page conversion rate differs by niche and the type of traffic. The following graph, created by Unbounce[2] displays the first point in no uncertain terms: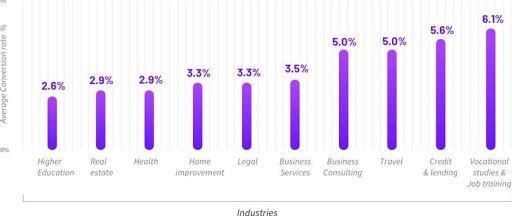 What is your landing page conversion rate?
Landing page conversion rate is a vital as well as a simple metric. You can calculate your conversion rates as long as you have two pieces of information:
The number of people who visited your page
The number of people who converted (took the desired action)
It takes simple math to identify your high-converting landing pages from the duds. Most analytics platforms, such as Google Analytics, can record the metric for you. Once this metric is analyzed thoroughly, you can start optimizing your landing pages to boost your conversion rate.
Simple ways to improve landing page conversion rates
You can certainly increase your conversion rates for your landing pages and build high-converting ones by consistently optimizing them. The following are five straightforward things you can do to get the ball rolling.
1. Step back to audit your existing conversion rate
You won't know the best way to increase conversions until you understand their existing dynamics. There are lots of ways to analyze the different aspects of your landing pages.
The audit of the user behavior on the existing landing page provides you immensely valuable insights. Website heatmaps can provide insights around the elements on your landing page that gets the most and the least attention. With such analyses in place, you can take a call to fix and optimize a troublesome element, such as a CTA button or an image on your landing page.
Take the example below of an eCommerce store that sells baby products. The heatmap revealed that the baby's face was a distraction to visitors. When the image was replaced with an alternative in the variation, site visitors started paying attention to the copy. – Read more