Today, mobile phones allow people to engage more often, in more ways, and from more places than ever.
This means the once linear path from discovery to consideration to purchase has not only evolved, but is always evolving.
Consider a woman from a recent study, who spent 73 days and interacted with more than 250 touchpoints (searches, video views, and page views) before purchasing a single pair of jeans. She visited several blogs, browsed large merchant sites, searched for local retailers, and watched product reviews on YouTube. Like many of today's consumers, she wanted to enjoy her time shopping, engaged with brands that inspired her, and narrowed limitless choices before picking the perfect pair.
In a world where we have less time and more options, it's crucial for brands to anticipate what consumers need in order to stand out. But just because the customer journey is complex doesn't mean delivering useful experiences has to be. Whether you're a scrappy entrepreneur or a large company, your marketing goals remains the same: reaching people at the right moments with the right offer.
At Google Marketing Live, you'll hear directly from our ads teams about the latest products designed to help you do just that. We'll show how ads can be there, be useful, and be responsible—unlocking more opportunities for you to connect with your customers and grow your business. Join us live today at 9am PT (12pm ET): g.co/marketinglive and get a front row seat for our biggest announcements.
Get discovered in more places
People turn to Google to communicate, find answers and stay entertained. And increasingly, they're swiping and scrolling through feeds as part of that journey—whether it's browsing videos in the YouTube home feed, checking timely offers in the Gmail Promotions tab or swiping through Discover to catch up on the latest news. These are opportunities for brands to engage them when it matters.
In a recent Google / Ipsos study, we saw that 76 percent of consumers enjoy making unexpected discoveries when shopping. And 85 percent of consumers will take a product-related action within 24 hours of discovering a product: reading reviews, comparing prices or purchasing the product—sometimes all at once!
Today, we're introducing Discovery ads. Rolling out to all advertisers globally later this year, Discovery ads are a new way to reach people across Google properties in the moments when they're open to discovering your products and services.
Rich and relevant creative: Inspire consumers with an open canvas showcasing your brand or products in a swipeable image carousel, rendered natively across each Google property.
Results: By combining this incredible reach and creative canvas with Google's understanding of intent, you can be confident you're anticipating what your customers want and delivering the results you care about.
Unmatched reach: Reach hundreds of millions of people across the YouTube home feed, the Gmail Promotions and Social tabs, and the feed in Discover using a single campaign.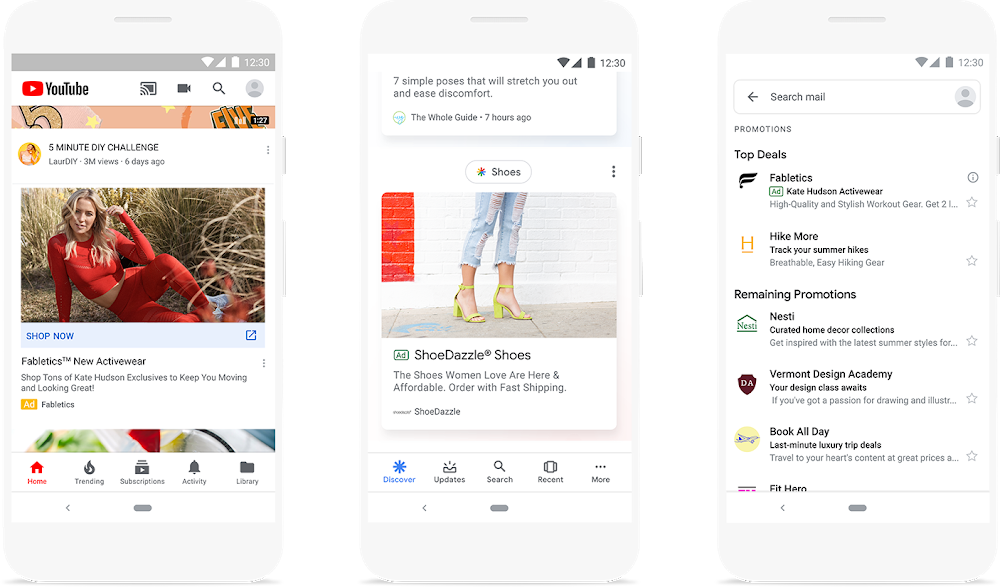 "Discovery has created a great opportunity for us to easily drive growth at scale for our brands beyond what we thought was possible with Google," says Daniel Pahl, VP of Media and Acquisition at TechStyle. "It's definitely outperformed my expectations in driving high-value leads and signups. We're now able to inspire a completely new audience to action."
Indeed, high-quality creative can be a great way to showcase your brand and set your products and services apart by highlighting what it's like to use them. That's why later this year we're launching Gallery ads: a new search ads format that brings more of your content to the Search results page. By combining search intent with a more interactive visual format, gallery ads make it easier for you to communicate what your brand has to offer. We've found that, on average, ad groups including one or more gallery ad have up to 25 percent more interactions—paid clicks or swipes—at the absolute top of the mobile Search results page.
And when it comes to getting ideas and inspiration, hundreds of millions of people enter shopping-related queries on Google each day. According to our data, about 60% of those shopping queries are from users browsing a category or brand – like "Max Mara dress" or "living room decor ideas." So today, we're bringing Showcase Shopping ads—a highly visual ad format that incorporates rich lifestyle imagery into your Shopping ads—to even more surfaces like Google Images and the feed on Discover—places where we know people are looking for inspiration and ideas.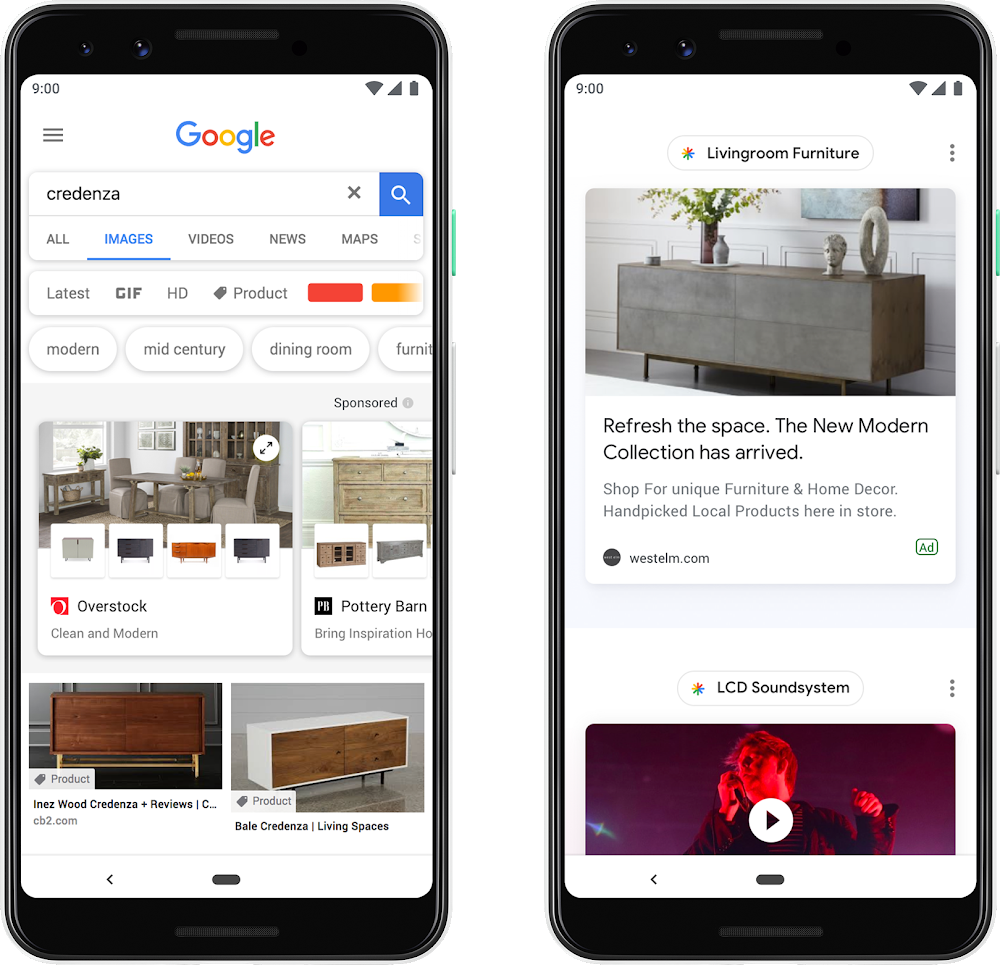 The new Google Shopping
This year we're unveiling a redesigned Google Shopping experience with new, immersive ways for shoppers to discover and compare millions of products from thousands of stores. When they're ready to buy, they can choose to purchase online, in a nearby store, and now directly on Google. For retailers and brands, it brings together ads, local and transactions in one place to help them connect with consumers across their shopping journey.
Shoppers will have a personalized homepage on the Shopping tab where they can filter based on features they care about and brands they love, read reviews and even watch videos about the products. For example, if they're looking for headphones, they can filter for wireless and the brand they're looking for. – Read more