Adwords is not converting and you feel like you may be wasting your money. Try these four conversion optimization tricks that are guaranteed to increase your Google ads conversion rates.
If Google Ads (previously "Adwords") is not converting, you may feel like you are wasting your money. And you are right. One must invest in ad campaigns that convert. Your ad spend paired with a higher conversion rate means more sales, more leads or more subscriptions.
Whether your campaign's cost-per-lead is too high, or your quality scores are stuck toward the bottom, these four conversion optimization tricks may bring your campaigns back to life. Give them a try.
Google Ads Optimization Trick #1: Take control of your landing page experience and ROI
You put a lot of effort crafting the perfect Google ad. People are clicking through to learn more about your offer. And unfortunately, your conversion rate is stinkingly low.
To avoid this, you must take control of your landing page experience and your ROI. Otherwise, your cost per conversion will skyrocket. And you want more leads, signups and sales, right? Let's take a look at a few simple and easy ways to see if this could be your problem or barrier to conversion.
Improving your landing page conversion rate will lower your customer acquisition costs.
Make sure your landing page content is in alignment with your offer
This is one of the most common mistakes businesses make when it comes to Google Ad campaigns. You may be missing out on sales if your ad copy advertises a specific item on your ecommerce website, and then send clicks to a category page where the featured item is hard to find.
The visitor or prospective customer has to make an effort to find what they clicked on. Make it EASY for them to get what they came for. Your offer.
Check out these 20 Landing Page Best Practices to Kickstart Your Conversion Lift, where we explain how to do this in more detail.
The content of your ad tells you what a visitor expects to find after clicking. Give the user what they want right away. You can tell if your landing page isn't satisfactory to your visitors by looking at click-map and scroll map reports. These conversion tracking reports are available from a number of vendors such as CrazyEgg and Hotjar. The example below belongs to one of our clients, the Turtle Bay Golf Resort in Oahu, Hawaii.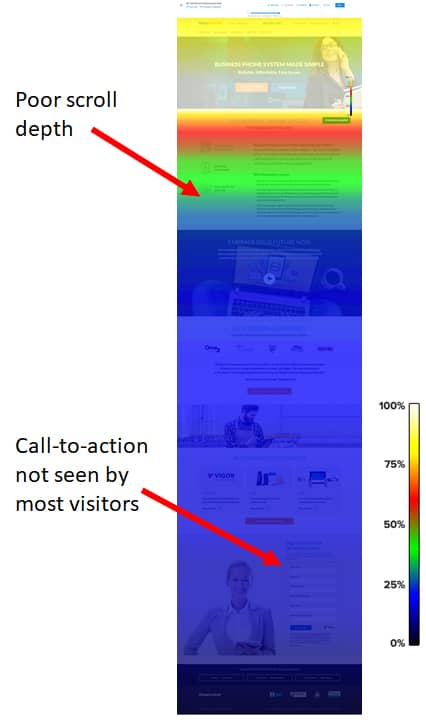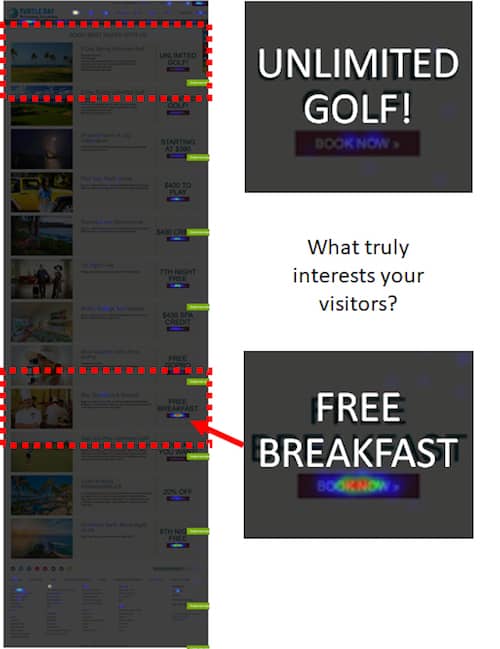 Adwords Conversion Trick #2: Improve Click-to-Call Conversions for Mobile Google Ads
Google research states that 70% of mobile searchers use the click to call feature. Moreover, 47% of those searching on mobile say that if a business doesn't have a phone number associated with their search results, they're more likely to explore other brands.
There is no need for landing pages when you use Adwords Call extensions. Users see your ad, and click to call immediately. To find success with click-to-call conversions, you're going to need stellar messaging stuffed into thirty characters or less on your headlines. Try some of these ideas to boost your click-to-call rate: – Read more