"Why don't we rank first for [keyword]"? Every SEO analyst gets this question. And every business investing in SEO uses keyword rankings to judge performance.
Despite the flood of "organic rankings are dead" articles in recent years, I have yet to see a single business or agency that has given up on tracking keywords.
So are all those articles wrong? Or is everyone paying attention to the wrong metric? What makes sense when it comes to rank tracking in 2021 and beyond?
Monitoring rankings still makes sense—even though it's gotten a lot harder.
SEO is one tiny piece of the larger marketing puzzle. It's about making your site accessible to a search crawler and, in turn, easily discoverable for users.
While improved rankings don't necessarily translate into more traffic (or conversions), it's easy for down-funnel metrics like engagement or leads to seem beyond the scope of your work, or at least secondary. Your job as an SEO, you think, is to help a site show up higher in results—if you're good at your job, the site will rank higher.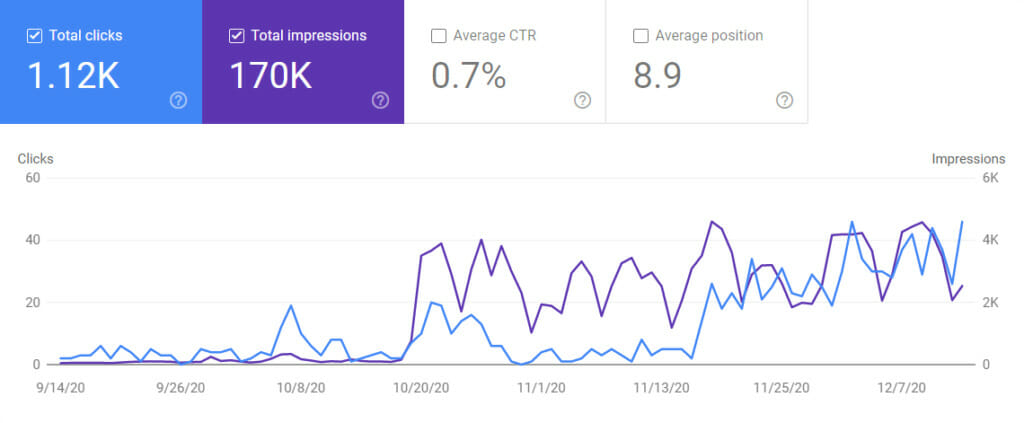 Being able to prove value, of course, requires being able to measure progress. That's gotten more difficult—and not just because of "(not provided)." Google has been advancing its search algorithm for years, introducing personalization, localization, multi-format search elements, and 0-click SERPs.
At some point, knowing your actual organic positions became not merely ineffective (i.e. higher rankings didn't lead to more leads and sales) but also almost impossible:
How can you even determine your page's current search position if you—or your preferred rank-tracking tool—displays a different set of search engine results than what your target audience may see?
How, then, can you evaluate the effectiveness of your SEO campaign? How do you know if SEO efforts are paying off if you can't tell whether your positions are improving?
The solution is data blending—combining several datasets to create a new dataset that can deliver confidence in how your rankings are trending, even if absolute, pinpoint accuracy for your rank for a given keyword remains forever elusive. (After all, if different people get different results, there is no single rank.)
When it comes to rankings, we have a few sources that provide reliable data:
Google's own tools (mainly Google Search Console);
Third-party rank trackers that have successfully bypassed barriers like personalization and localization;
Third-party web analytics platforms that still show search-query data.
Using several data sources and blending the data will get you closer to assessing the value of your SEO work. Here are a few ways to do it.
1. Use a third-party tool to compare and trend GSC data.
Ever since Google Analytics locked out its keyword data as "(not provided)," Google Search Console (GSC) has been the only reliable source of ranking data.
GSC does provide free, in-depth insights, which you can play with and even integrate into your WordPress backend by using a plugin. (You can also use GSC data to identify which sitelinks Google shows for brand queries.) But its functionality is sadly limited, especially when it comes to trending ranking data.
Which keywords are gaining or losing traction? Which pages have been gaining or losing traffic? For how long has any particular traffic trend gone on?
You can make simple comparisons of positions and organic clicks between two periods, but building a more complex report to answer the questions above is likely to take you hours.
Third-party tools that integrate with GSC can help. SE Ranking is a multi-feature SEO suite that includes many neat features, like monitoring extra search elements (e.g., featured snippets, image carousels, and organic sitelinks).
The nice thing about this platform is that it blends its own ranking data with GSC data, allowing you to:
Compare the tool's findings with GSC's average position. They will always differ because Google shows an average position, and you're monitoring rankings within a particular location (e.g., country or city). But comparing the two datasets allows you to estimate your visibility more accurately and validate the rankings you see.
Clearly monitor your trend for each query. Expect the two data sets to mostly agree: You're unlikely to decline in your average position according to GSC while gaining in SE Ranking. (And, if you are, you know something is up that you otherwise would've missed.)

Once you identify a trend, you can create your plan of action:
Do nothing and watch, which makes sense when you see +1 / -1 types of "natural" variations.
Diagnose a drastic change (when both datasets agree). I consider a loss of more than 10 positions a huge change but only if the initial position was within the top 10. Otherwise, I wouldn't spend my time on it. Here's a pretty easy, yet solid, guide on diagnosing position loss.
Check if pages that are trending positively have strong CTAs, forms that work, and no broken links to interrupt a (hopefully) increasing swath of visitors.
2. Reconnect keyword data to on-site behavior.
While Google Analytics is pretty much the default analytics solution for most websites, some independent platforms can add some missing data points—like the queries your organic users ran to end up on your site.
Finteza is one such platform. The tool starts collecting and showing data immediately after you install the script.
Editor's note: When asked about how Finteza collects the referring keyword data from search engines, their team said: "Finteza gathers data from many Search Engines (Google, Bing, Yahoo, Yandex, Baidu and so on) to provide a complete picture [. . .] there's no any estimation inside Finteza. System is showing all gathered details."
You can access your traffic-driving keywords by:
Going to the "Sources" section and clicking "Search."
Clicking "Search keyword" tab.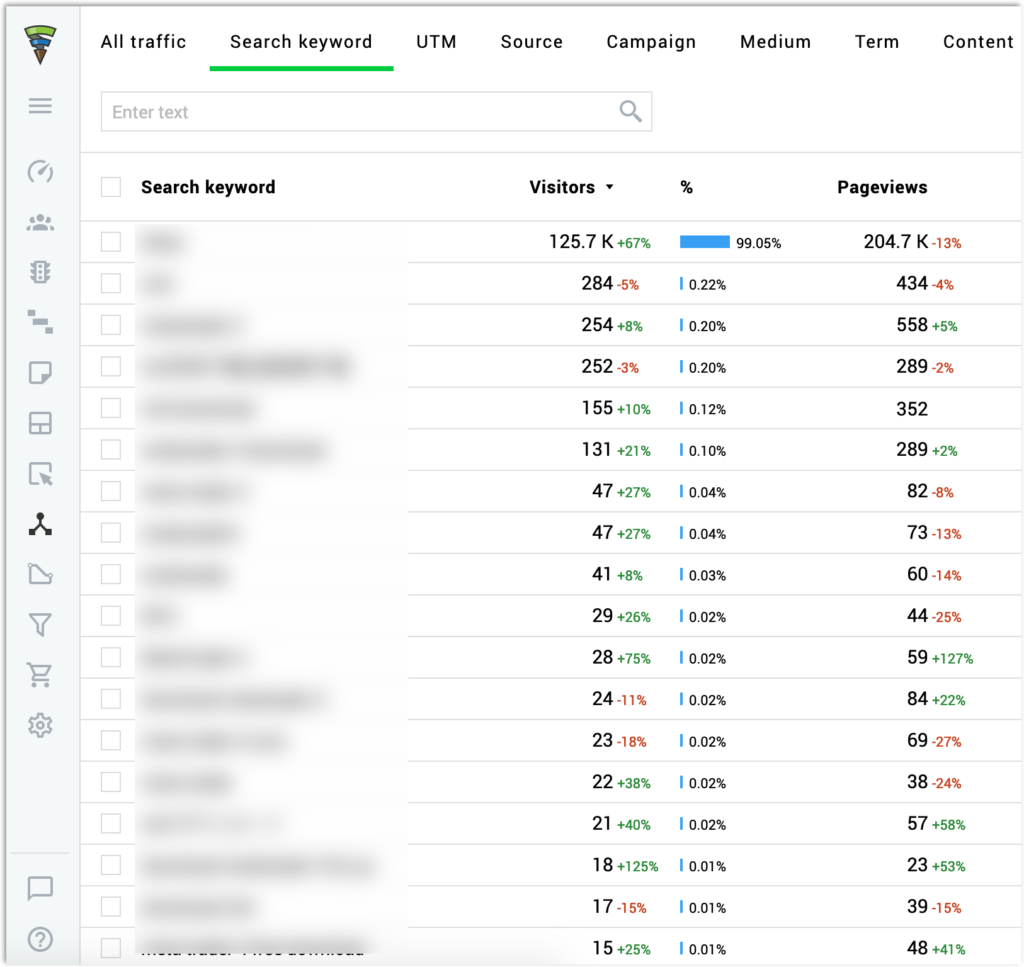 The default search keyword report consolidates data from all search engines you appear in. This is helpful because you can get a better picture of all the possible ways your site can be found.
To get a more detailed look into any keyword's performance, click it in the report and proceed to other sections of the analytics platform. All further reports are limited to the traffic driven by that particular keyword.
This is a great way to identify your best-performing keywords. For example, you can identify how any particular search query performs at various stages within your conversion funnel: – Read more